NEW! For the 3 most common mistakes made in getting restorations the right color, click on the below photo.
Color-correct, full-spectrum lighting now available in 3, LED order-pack sizes. Serving the Dental profession since 2000.
Doing take-offs can be done in many lighting scenerios. Each different light will enhance a different spectrum. Dentists have found that having a light that is "neutral," not leaning cool or warm, in its spectra keeps the guess work to a minimum. This light identifies any possible hue leaning and gives you a chance to match it upfront keeping the surprises out of the picture.
"The Confidence in knowing that the team is looking at the same shade guide in the very same light as I am is quite reassuring."

David Clark, DDS
The big idea is keeping redos to aminimum, and chair-time to a maximum.



The best way to ensure your patient gets the smile they expect is to make sure that you and your dental team are seeing the same true color. CRS Light has the color-correct LED and fluorescent light to help dentists, prosthodontists, ceramists/lab technicians, lab bench workers and denture finishers get on the the same visual playing field.





| | The photo indicates the visual gap between common light spectrums. The Kelvin and CRI light emision ratings are what differentiates our lights from the crowd. | |
| --- | --- | --- |
The ability to SEE your work in the right neutral light makes a difference. The challanges and variables are many so why not manage these? Redo's are costly in labor, lost chair- time, and material, all affecting your bottom line.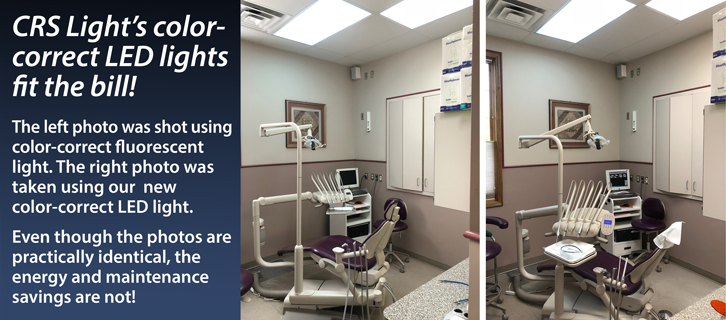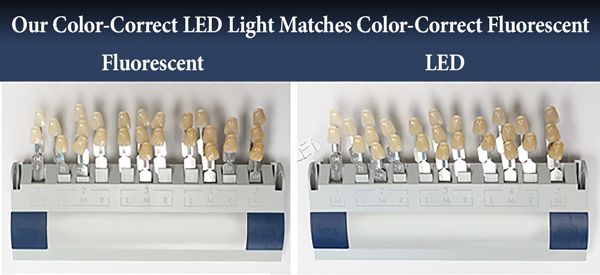 The above photos match! On the left is color-correct fluorescent and
the right photo is our color correct LED lamp.
USA engineered, supervised and warrantied!
Questions? Call Jim at 1-888-KRAFT99 or text 440-749-85four5
Refunds: Due to product size and shipping costs, returns are accepted
up to 30 days. 15% restocking fee with freight costs apply..



Limited supply, get yours ordered today while stock is good.





Click on photo the for installation overview video.
For Info on high 95 CRI LED in 4', T8 click here.

For less expensive LED tube choices in 4', T8 but lower CRI click here.
For fluorescent light tube choices in 4', T8 and T12 click here.


- Can the new LED tube lights offer the same color correct light qualityas fluorescent? Click here for our comparison chart and LED light article.
- About seeing through enamel acurately.
"As a Dental Lab owner who is very concerned about making sure every shade match is correct, we have installed all color corrected lights everywhere throughout our lab with CRS Light's advice. Our lab is bright and cheerful, we are confident that the shades going back to our doctors are spot on because we are using color-corrected lights.

I highly recommend dentists and labs to be on the same page with their lighting. It plays such an important part of getting a perfect shade match and the lighting environment is much more pleasant to work under."

Dennis King, CDT,TE




© 1999-2023 CRS Light