2'x 2' LED high bay does a nice job
in an intermediate size room.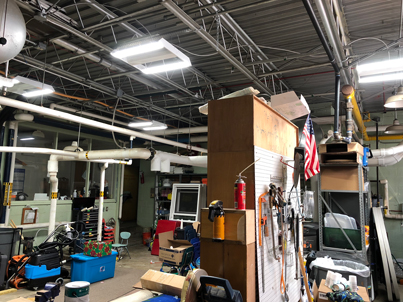 Our work rooms we rely on for storage, tools, access to what makes a building run resides in most buildings. Many of these rooms are lit by dated drop down and old magnetic run ballast type fixtures, if the fixture is even working at all. The rooms are used as workshops for repairs of all sorts for the building itself or for tennant needs. They store the tiniest nuts, bolts, washers, and large items such as snow removal equipment, and the list goes on and on.

The work room pictured is in a cummunity center. The lights used were low-hanging incandescent dome-shaped light fixtures. The light strategy here was simple and affective. Light the entire room with 4, 2'x 2' lower lumen high bays. The ceiling is ony a 12' foot ceiling, which is on the low side for a high bay. However, the narrow profile of the fixture allowed us to hang the fixture higher for greater light spread.

So all in all, it was a great move to get light on work benches and in all the shadowed areas. Since we were converting the other offices and rooms from fluorescent to LED, we were able to get a cash incentive from the energy company to offset some of the costs. Now they can see safely and save on enrgy as well.


© 1999-2018 CRS Light